by Fun Hands-on Learning
Pre-Kindergarten – Kindergarten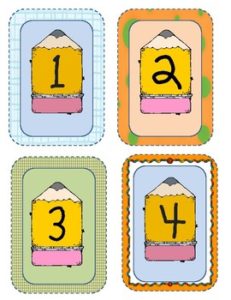 These number matching flashcards are great for teaching beginning learners(preschool/kindergarten). Included in this set are 8 pages to print and cut. There are 4 cards per-page just numbers 1-10. I would suggest printing them on card stock, and even laminating them.
Directions:
Print and cut out each card (cardstock works well). Mix the cards up and have your child/student match the written number to the card with the corresponding number of pencils.
You can also place all the cards facedown and have your child play "matching." Each player takes turns turning over two cards. If they match, the player can keep the cards. The player with the most matches at the end wins.
**********
★ Follow FH on Facebook
https://www.teacherspayteachers.com/Product/Number-Counting-Match-Cards-1320370
---