by Charity Preston
3rd – 5th Grade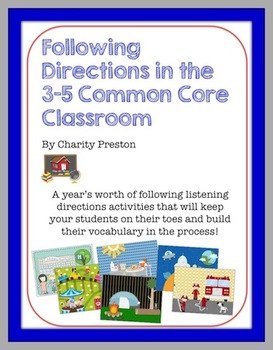 This is the sampler pack preview version. If you are ready to purchase the full year edition, click HERE.
Do you ever have issues with students who never seem to listen to the directions, even after you have given them 3 and 4 times? I know I have in the past, so I decided to do some listening skills practice activities in order to fine-tune their listening capabilities.
After giving my students a short listening task, I either graded the work (which became an eye opener for some!) or we used it as a teachable mini-lesson on what should have been done better. Sometimes I even rewarded the student who received the best score as an exemplary way to listen and follow directions. The reward usually involved a little extra computer time or maybe being the line leader for the day.
Sometimes we assume that students know how to listen and that if we give directions several times they should be able to hear, listen, and apply. Unfortunately some students need to continuously practice that skill, much like any other curriculum strategy. Following Directions in the Common Core Classroom will not only help your students to be more keenly aware of oral directions, but also help you with expected classroom routines and procedures.
The best part? The activities listed take less than 2 minutes once a week to administer! Have a group discussion after doing to activity, and you are done in under 15 minutes! Want an actual listening center activity? Use the included audio tracks so you don't even have to be present!
The full version includes the following:
•36 weekly activities which can be done as a whole class or as a center activity, including the answer keys
•All the matching handouts are included as a full page and as a half page, in both color and in grayscale, which will make for easier printing for those that do not have access to a color printer
•All 36 weeks worth of audio files
Ready to purchase a full year's worth of listening activities? Click HERE to get it now!
Looking for the Grades K-2 edition? Click HERE!
Please be reminded that the files you have are to be used by ONE classroom teacher per copyright law. I really thank you for respecting my time and work.
Want more great teaching tips and classroom organization ideas? Register for one of our FREE Workshops, add our feed to your RSS reader, or visit us on Facebook, Pinterest, my TpT Store, and Instagram!

https://www.teacherspayteachers.com/Product/FREE-Following-Directions-in-the-3-5-Common-Core-Classroom-Sample-725325
Join The Best of Teacher Entrepreneurs Marketing Cooperative at
http://www.thebestofteacherentrepreneursmarketingcooperative.com/2014/01/the-best-of-teacher-entrepreneurs.html
and get THOUSANDS OF PAGE VIEWS for your TpT products!

Victoria Leon's TpT Store
Go to http://www.pinterest.com/TheBestofTPT/ for even more free products!







---