by Teaching is a Work of Art
2nd – 4th Grade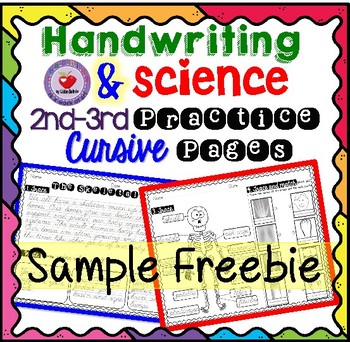 This is a sample freebie extracted from my full packet of Science Passages. The packet provides cursive handwriting practice together with reading comprehension in a contextualized and meaningful way. Instead of practicing writing letters and words in isolation, this packet helps students review science concepts while improving their handwriting skills.
The topic in this sample is The Skeletal System ( 2 pages).
In theFULL SET
the science topics covered are:
-Matter
-States of Matter
-The Water Cycle
-Living and Non-Living Things
-Force and Motion
-Simple Machines
-Wild and Domestic Animals
-The Skeletal System
-The Solar System
-Ecosystems
-Plants
-Food and Nutrition
Each topic is two pages. Students read and trace the informational passage first and are then required to complete sentences, do matching exercises, label pictures, draw, etc. using words presented in the passages.
Once students learn what they are expected to do, this pack can make a great center.
IF YOU ARE INTERESTED IN MEANINGFUL CURSIVE practice, please check out these other popular products kids love!:
✔️CURSIVE THROUGH CONTENT SET 1
✔️CURSIVE THROUGH CONTENT SET 2
✔️CURSIVE THROUGH CONTENT SET 3
✔️CURSIVE THROUGH CONTENT SET 4
✔️CURSIVE THROUGH CONTENT SET 5
***************************************************************************
Customer Tips:
How to get TPT credit to use on future purchases:
• Please go to your My Purchases page (you may need to login). Beside each purchase you'll see a Provide Feedback button. Simply click it and you will be taken to a page where you can give a quick rating and leave a short comment for the product. Each time you give feedback, TPT gives you feedback credits that you use to lower the cost of your future purchases. I value your feedback greatly as it helps me determine which products are most valuable for your classroom so I can create more for you. ☺
Be the first to know about my new discounts, freebies and product launches:
• Look for the green star next to my store logo and click it to become a follower. Voila! You will now receive email updates about this store. ☺

https://www.teacherspayteachers.com/Product/Cursive-Handwriting-Practice-with-Science-Passages-FREEBIE-3660053
Join The Best of Teacher Entrepreneurs Marketing Cooperative at
http://www.thebestofteacherentrepreneursmarketingcooperative.com/2014/01/the-best-of-teacher-entrepreneurs.html
and get THOUSANDS OF PAGE VIEWS for your TpT products!

Victoria Leon's TpT Store
Go to http://www.pinterest.com/TheBestofTPT/ for even more free products!







---