by Kathleen Applebee
4th – 12th Grade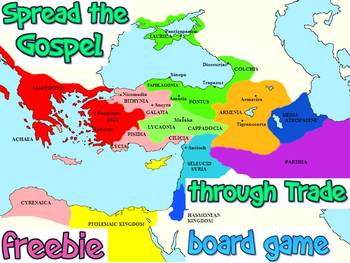 Spread the Gospel through Trade is a cooperative game encouraging players to band together versus a common enemy – the devil. To win, players will need to share resources and make joint plans and decisions. SGT uses interpersonal skills like planning ahead, listening, sharing, negotiating, etc. that are needed for teamwork and collaboration with others in the real world. While sharing ideas and strategies, players are engaging higher level thinking even when it is not their turn.
SGT also gives practice in economic decision making, reading maps, charts and relating scripture to these. Play consists of players spreading the gospel to every region, financed through wise trading, in a limited number of turns while adverse circumstances and the devil try to thwart their efforts.
ZIP file includes .PDFs with game board, tokens, cards and directions.
Check out these other products and freebies
Skits about Bible camels free
Skits about Bible donkeys free
Civics bundle for secondary students
American History readers theater bundle
Easter skit package 5 free scripts
Christmas skit package free
Curtain Call Caper Freebie novel study
Persian Palace Poisonings freebie
The Case of the Missing Bride free mystery dinner theater script
Back to School lab safety freebie
Free Christian drama resources at Fools for Christ 
Free interactive Bible games

https://www.teacherspayteachers.com/Product/Freebie-Spread-the-Gospel-through-Trade-board-game-3327701
Join The Best of Teacher Entrepreneurs Marketing Cooperative at
http://www.thebestofteacherentrepreneursmarketingcooperative.com/2014/01/the-best-of-teacher-entrepreneurs.html
and get THOUSANDS OF PAGE VIEWS for your TpT products!

Victoria Leon's TpT Store
Go to http://www.pinterest.com/TheBestofTPT/ for even more free products!







---