by Connie
6th – 12th Grade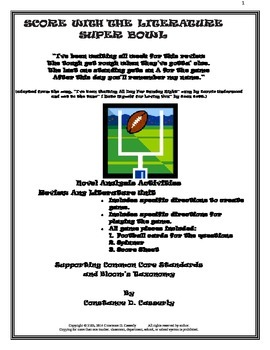 After a weekend of football playoff games, I woke up this morning with Pigskin Fever. In keeping with the spirit of the football season, I am offering you my literature review product, Score With the Literature Super Bowl. It ties together all of the elements of literature and how they form the structure of any literary text, while preparing students for the assessment.
I am offering it because I absolutely love how it engages and energizes students to review the novel or narrative nonfiction book that they have been studying. This comprehension analysis activity not only checks students' understanding of facts, ideas and details, but it also assesses their analytic and interpretive comprehension, ergo, it develops their higher level thinking skills.
The Teacher's Notes in Score With the Literature Super Bowl include specific directions for creating and playing the game, as well as all game pieces-football cards for the point values and questions, a spinner, and a score sheet.
With this teamed activity, students will quit playing their off-task Desktop Football with that folded triangular paper football that they flick toward their index finger goal posts. Instead, they will be singing,
"I've been waiting all week for this review
The tough get rough when they've gotta' clue.
The last one standing gets an A for the game
After this day you'll remember my name."
(adapted from the song, "I've Been Waiting All Day For Sunday Night" sung by Carrie Underwood
and set to the tune" I Hate Myself for Loving You" by Joan Jett).
More lessons and activities for analyzing texts
Comprehension-Reviewing Texts Activity: Tying it All Together (FREE)
Analyzing Fiction Activity: Tell Me a Story (FREE)
Comprehension and Writing Assessments:Novel Necessities (FREE)
Enjoy a Teach It Now Day,
Connie
Follower Advantage
For an automatic Heads-Up! email about Updated and New products, and also for Sales and other promotions, please click on the Follow Me star under my Store name, Connie.

https://www.teacherspayteachers.com/Product/Comprehension-Activity-Score-With-the-Literature-Super-Bowl-1058494
Join The Best of Teacher Entrepreneurs Marketing Cooperative at
http://www.thebestofteacherentrepreneursmarketingcooperative.com/2014/01/the-best-of-teacher-entrepreneurs.html
and get THOUSANDS OF PAGE VIEWS for your TpT products!

Victoria Leon's TpT Store
Go to http://www.pinterest.com/TheBestofTPT/ for even more free products!







---