by Giraffe Logo
4th – 10th Grade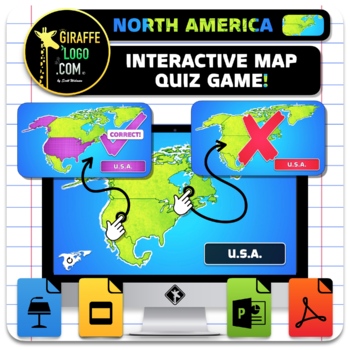 The North America Interactive Map Quiz Game is the absolute coolest way to learn Geography both in and out of the classroom! No Prep required, simple and easy to use, just open up document and let the learning begin! Each Map Quiz includes x14 slides for all x4 countries + regions in North America! Maps are engagingly themed to spark students interest, work great for fun class wide review games or individual practice of geography skills, is perfect for in person or online learning, and can even be used OFFLINE!
✅ WHAT IS INCLUDED?
—> Zip File = Containing Interactive Map Quizzes complete with x14 slides for all x4 countries / regions in North America.
—> No Preparation = Simply open document, enter present mode, and you are ready to use!
—> Engagingly Fun Activity = Map Quizzes can be used individually or with the entire class, as a fun review game or formal assessment, and are perfect for in person and online learning!
—> Simple & Easy to Use = Navigate the entire Map Quiz through one clear and organized Home Slide.
✅ HOW IT WORKS!
Step 1: Open Map Quiz document in Google Slides and enter "Present Mode".
—> You will begin on the "Home Slide" (which displays a list of all locations) and can navigate through the entire Map Quiz from this one slide.
Step 2: Select Location from Home Slide to be quizzed on by clicking on any country name / label in any order you wish. (Quiz students on as many or as few regions as you would like)
—> Once you select a location to be quizzed on, you will be presented a blank map with the label of the selected country at the bottom.
Step 3: Match Region & Label by having students click on the location (on the black map) that matches the label / name of the region to prompt one of two outcomes.
Correct Answer = If students select the correct region, the location will light up in Purple, congratulate them on a correct answer, and will bring them back to the Home Slide.
Incorrect Answer = If students select an incorrect region, a Red X will appear and allow students to try again until they select the correct location on the map.
✅ SPECIAL FEATURES!
HOME SLIDE = Displays a list of each location included in the Map Quiz by name and allows you to easily navigate through the entire map quiz from this ONE slide.
HELP BUTTON = In the corner of the Home Slide you will find a "HELP BUTTON" that can be accessed at any time and directs you to a fully labeled map so you can brush up on your geography skills before, after, or even during the map quiz game.
BACK BUTTON = In the corner of each quiz slide you will also find a "BACK BUTTON" that will allow you to return to the Home Slide without selecting the correct answer.
NO INTERNET = NO PROBLEM = Because ALL Interactive Map Quizzes comes in multiple formats, you can easily download and use this resource OFFLINE without any access to the internet at all.
SMART BOARD & SMART PHONE COMPATIBLE = Perfect not only for Computers, but also for Smart Boards, Projectors, iPads, Cell Phones, or any other Smart Devise which allow students to fully navigate and control the interactive map quiz activity themselves.
✅ Includes ALL 4 Countries + Locations in North America!
1) Canada
2) Greenland (Denmark)
3) Mexico
4) United States of America
We want to hear from you! – Because we are relatively new, we are dying to hear from you! Whether you have a question as to how to edit a particular map, a suggestion for ways to improve, a request for what you would like to see in the future, or even a simple "here is how I used it" story, we are only an email away & we are here to help! Contact Us @ or Email Us @

https://www.teacherspayteachers.com/Product/North-America-Interactive-World-Geography-Game-Map-Quiz-FREEBIE-7595901
Join The Best of Teacher Entrepreneurs Marketing Cooperative at
https://thebestofteacherentrepreneursmarketingcooperative.net/the-best-of-teacher-entrepreneurs-marketing-cooperative-one-year-membership/
and get THOUSANDS OF PAGE VIEWS for your TpT products!

Victoria Leon's TpT Store
Go to http://www.pinterest.com/TheBestofTPT/ for even more free products!






---