by RoShamBo Homeschooling
Pre-Kindergarten – 2nd Grade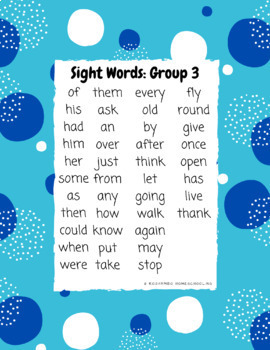 Our family uses a combination of phonics and sight words to learn how to read. Sight words include the most commonly used words in the English language that should be learned by simply memorizing them rather than sounding them out.
We use the Dolch word list for learning sight words. It's the most commonly used way to learn sight words and has extensive research backing up its effectiveness!
The Dolch sight word list contains the 220 most commonly used words in English that should be learned as sight words. Between 50% to 80% of words found used in textbooks, library books, newspapers, and magazines are on the Dolch word list! That means that if your child learns the full list, they can already read over half of the words in every book!
This free printable includes cute 5 posters containing all 220 of the Dolch sight words. They're perfect for printing on nice cardstock and laminating to hang in your homeschool space.
The 5 sets should be taught in order. Based on the research, each set is ideal for a specific grade level.
Preschool: Set 1
Kindergarten: Set 2
1st Grade: Set 3
2nd Grade: Set 4
3rd Grade: Set 5
Of course, the one-on-one attention from homeschooling makes our kiddos so brilliant that you can definitely move on to the next set earlier if your child is ready!
Please let me know if you have any questions prior to purchasing.
© RoShamBo Homeschooling 2020
Earn points toward FREE TPT products by leaving feedback on my products.
__________________________________________________________________
Let's connect!
Don't forget to FOLLOW ME on TPT to be the first to know about discounts, freebies, and product launches!
https://www.teacherspayteachers.com/Product/Dolch-Sight-Word-Posters-5919127
Join The Best of Teacher Entrepreneurs Marketing Cooperative at
https://thebestofteacherentrepreneursmarketingcooperative.net/the-best-of-teacher-entrepreneurs-marketing-cooperative-one-year-membership/
and get THOUSANDS OF PAGE VIEWS for your TpT products!

Go to http://www.pinterest.com/TheBestofTPT/ for even more free products!


---