by Omega English
8th – 12th Grade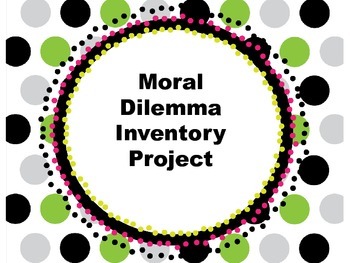 Engage your students in this moral inventory project. Throughout this project, students are asked to conduct a short survey revolving around the overarching question: Is the happiness of the majority, worth sacrificing the happiness of the minority? Students will then analyze their finding and reflect on the implications of their data.
This Omega English product contains project instructions, as well as a 2 page graphic organizer for students to record their findings.
Please don't forget to follow my store, Omega English , for more great lessons, bundles, and free monthly downloads!
You Might Also Like: Character Accountability Worksheet
Keywords: Morals, ethics, moral inventory, project, discussing implications from data, high school, advance placement courses, electives, university level courses, philosophy, utilitarianism, Jeremy Bentham, John Stuart Mill
https://www.teacherspayteachers.com/Product/Moral-Inventory-Project-Free-2126892
Join The Best of Teacher Entrepreneurs Marketing Cooperative at
https://thebestofteacherentrepreneursmarketingcooperative.net/the-best-of-teacher-entrepreneurs-marketing-cooperative-one-year-membership/
and get THOUSANDS OF PAGE VIEWS for your TpT products!

Go to http://www.pinterest.com/TheBestofTPT/ for even more free products!


---