by Shining Scholar Education
4th – 12th Grade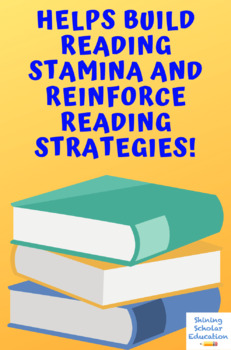 A 1-page reading writing assessment with lined area for students' response to literature while including details about the plot, setting, and characterization of the story.
This lesson is student-centered, meaning:
–it allows you to become a facilitator!
–happier teachers!
–happier students!
–happier administrators!
Connect with us:
Facebook: https://www.facebook.com/shiningscholareducation
Twitter: https://twitter.com/ShiningScholar
Instagram: https://www.instagram.com/shining_scholar_education/
Sign up for our email list to get free English/Language Arts resources and discount coupons in your email!
https://mailchi.mp/f6b12b8ab810/productdescription
Check out these other awesome, related resources!
Engaging and Interesting Journal Writing Prompts for All Students
Rocky Movie Lesson Plan, Viewing Guide/Quiz/Test, and Essay Questions
Short Stories of Love, Hope, and Laughter Volume I (eBook)
Through the Night Zombie Novel Reading Comprehension Practice Worksheets
The Summoner's Tale Reading Comprehension Test Quiz
The Tell-Tale Heart Reading Comprehension Test Quiz and Essay Questions
The Friar's Tale from The Canterbury Tales Reading Comprehension Test Quiz
The Physician's Tale from The Canterbury Tales Reading Comprehension Test Quiz
Students as Lawyers: Criminal Trials Lesson
Sharing Student Writing Critique Group Sheet English
Fun with Proverbs, Cut-Outs for Students to Put Together
Gift of the Magi Reading Test/Quiz 6th, 7th, 8th Grade
Figurative Language/Grammar/Punctuation Quiz With Answer Key
Persuasive Essay Writing Lesson
Lesson Plan: Poetry Analysis and Creation
Language Arts Primary Vocabulary Quiz and Key Lesson
Sir Arthur Conan Doyle Sherlock Holmes Speckled Band Short Story PowerPoint Review Game Lesson
Letter of Advice to a Character in Literature Lesson
Essay/Narrative/Story Mind Map and Outline Prewriting Activity Lesson
Student Personal Thesaurus Handout
Expository Writing Essay Practice English Lesson
Lesson Plan:Poetry, Analysis and Creation Lesson
Brainstorming for a Story, Plot Diagrams Worksheets
Bundle of 4 Original Short Stories for Teens w/ Reading Comprehension Questions Lesson
Freedom Writers Movie Film Questions and Project Lesson Plan
The Karate Kid Movie Quiz, Lesson Plan, and Research Project
Frayer Model Vocabulary Worksheet
Heroes that Motivate Students Powerpoint Lesson
Inspirational & motivational eBook "The Little Book of Big Quotes"
Tutoring Sign-in Sheet for Teachers
Student Contact Sheet for Record, Meetings, and Parent Conferences
Student Reflection Sheet for Misbehavior Classroom Management
Simple Weekly Lesson Plan Template
Class Vote Cards for Student Titles (MVP) Most Valuable Pupil, etc.
Attendance & Grades Sheet/Form for Teachers
https://www.teacherspayteachers.com/Product/Generic-Reading-Writing-Assessment-SummaryEssay-52110
Join The Best of Teacher Entrepreneurs Marketing Cooperative at
https://thebestofteacherentrepreneursmarketingcooperative.net/the-best-of-teacher-entrepreneurs-marketing-cooperative-one-year-membership/
and get THOUSANDS OF PAGE VIEWS for your TpT products!

Go to http://www.pinterest.com/TheBestofTPT/ for even more free products!


---