by School Time Teaching
2nd – 4th Grade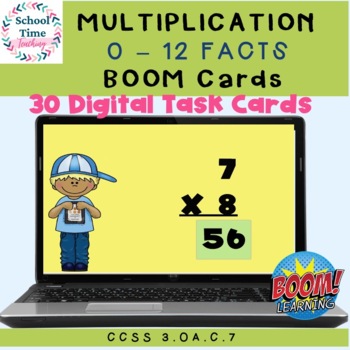 Multiplication Fact Fluency 0 – 12 Facts – BOOM Cards – Digital Task Cards
This is a 30 card digital task card deck hosted on the BOOM Learning website that covers Multiplication Fact Fluency 0 – 12 facts. Students are asked to identify multiplication 0 – 12 facts. These digital task cards would be great on a laptop, desktop, Chromebook, tablet, or any mobile device that is able to access the internet. These can even be used on a SMARTBoard. The digital task cards are self-grading. There is no printing, laminating, storage, and no prep needed.
Please note: This is not a printable resource. This download will give you a PDF that will link you to the Boom Cards on the Boom Learning website.
This product includes:
· to access 30 Digital Task Cards on Multiplication Facts 0 – 12 (1 card per slide) on the BOOM Learning℠ website
· Teacher Notes on how to use these BOOM Cards™ in your classroom
These task cards feature 30 cards for each multiplication facts 0 – 12. The cards are set to appear in random order.
Take a look at the thumbnail images and the preview file above to get a better idea of what the digital task cards look like. The preview file will only allow the first four cards. Those are not in random order.
If you enjoyed using this resource, please leave feedback. Leaving feedback earns you points toward FREE TPT purchases and I LOVE hearing from my fellow teachers.
More about BOOM Learning…
To use Boom Cards, you MUST be connected to the Internet. Boom Cards play on modern browsers (Chrome, Safari, Firefox, and Edge). Apps are available for Android, iPads, iPhones, and Kindle Fires. For security and privacy, adults must have a Boom Learning account to use and assign Boom Cards. You will be able to assign the Boom Cards you are buying with "Fast Pins," (play provides instant feedback for self-grading Boom Cards). Fast Play is always a free way for students to engage with Boom Cards decks. For additional assignment options you'll need a premium account. If you are new to Boom Learning, you will be offered a free trial of our premium account. Readhere for details: http://bit.ly/BoomTrial.
https://www.teacherspayteachers.com/Product/BOOM-Cards-Multiplication-0-12-Fact-Fluency-FREE-5758964
Join The Best of Teacher Entrepreneurs Marketing Cooperative at
https://thebestofteacherentrepreneursmarketingcooperative.net/the-best-of-teacher-entrepreneurs-marketing-cooperative-one-year-membership/
and get THOUSANDS OF PAGE VIEWS for your TpT products!

Go to http://www.pinterest.com/TheBestofTPT/ for even more free products!


---