by Belle of Teaching
5th – 6th Grade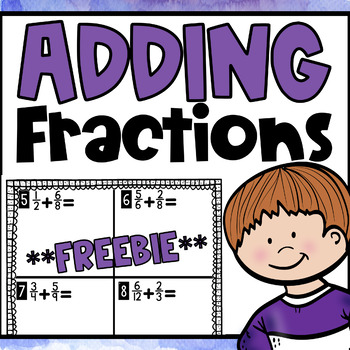 Adding Fractions with unlike denominators can be a tricky skill for students to master. This free resource can be added to your math curriculum to give students the added practice. Use this resource for additional classwork, homework practice, math centers, or project it onto your interactive whiteboard.
3 sets of practice pages (total of 6 pages and 30 problems)
Please take the time to read through the product description. Also, preview the product with the thumbnails If you have any questions or concerns about this product, please leave me a note in the Product Q&A tab and I will get back to you as soon as possible!
♦♦♦♦♦♦♦♦♦♦♦♦♦♦♦♦♦♦♦♦♦♦♦♦♦♦♦♦♦♦♦♦♦♦♦♦♦♦♦♦♦♦♦♦♦♦♦♦♦♦
How to get credit from TPT to use on future purchases:
After making sure you are logged in, go to your My Purchases page. Under each purchase you' will see a Provide Feedback button. Click that button. You will be taken to a page where you can rate and leave a quick review about the products you have purchased. I value your feedback!
Want to know more about my new discounts, freebies, and product launches?
Look for the green star near the top of any page within my store and click on "Follow" After clicking on it, you will receive customized email updates about this store, when I launch new products, and when I put my items on sale. You will also have the special opportunity to save off new products for the first  they are posted!!
https://www.teacherspayteachers.com/Product/Adding-Fractions-with-Unlike-Denominators-5377109
Join The Best of Teacher Entrepreneurs Marketing Cooperative at
https://thebestofteacherentrepreneursmarketingcooperative.net/the-best-of-teacher-entrepreneurs-marketing-cooperative-one-year-membership/
and get THOUSANDS OF PAGE VIEWS for your TpT products!

Go to http://www.pinterest.com/TheBestofTPT/ for even more free products!


---