By Christina L
Grades 2-5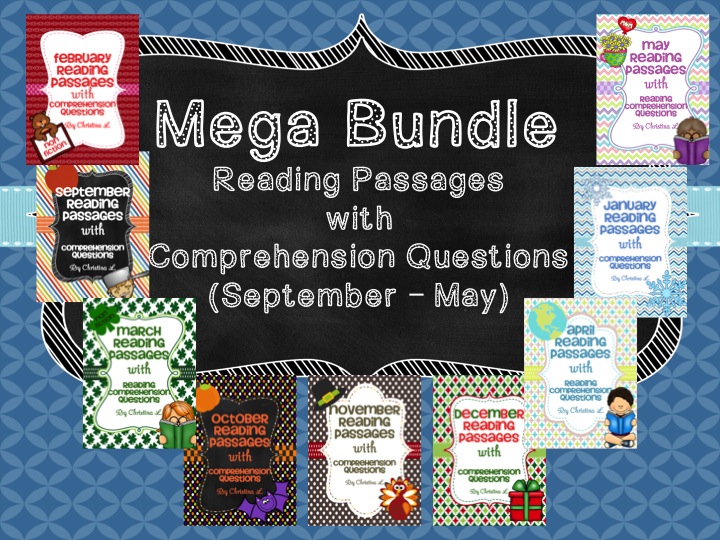 Cover all the important days and events of the year in these fun reading passages. They are filled with fun, historical facts plus comprehension questions.
Use them as a quick warm up or in a reading center.
It includes months September through May.
Each month includes 8 reading passages and 1 worksheet for recalling important facts.
September:  Johnny Appleseed, Hispanic Heritage Month, Talk Like a Pirate Day, Grandparents Day, Constitution Day, Happy Labor Day, Welcome, Fall!
October: Bats! Bats! Bats!, Arachnophobia!, Fire Prevention Week, Columbus Day, Make a Difference Day, Happy Halloween, How to Grow a Pumpkin, Happy Birthday Noah Webster!
November: Squanto: Friend to the Pilgrims, Election Day, Veterans Day, The Mayflower, The First Thanksgiving, King Tut Day, Native American Heritage Month: Sacagawea, Life of a Pilgrim Child
December: Kwanzaa, Las Posadas, Hanukkah, Christmas Traditions, Reindeer, Arctic Animals, Wright Brothers Day, Hibernation
January: Happy New Year!, Martin Luther King, Jr. Day, Emperor Penguins, The Abominable Snowman: Fact or Fiction?, Do You Want to Build an Igloo?, National Braille Literacy Month, Opposite Day, Happy Birthday Ben Franklin!
February: Groundhog Day, What is a Groundhog Anyway?, Random Acts of Kindness Day, Honest Abe, The Father of Our Country, Super Bowl Sunday, Valentine's Day, Leap Day
March: St. Patrick's Day, Read Across America Day, March Madness, Women's History Month, Pi Day, Ireland, Happy Birthday Harry Houdini!, In Like a Lion, Out Like a Lamb
April: April Fool's Day, Jackie Robinson Day, Happy Earth Day!, The Titanic Sinks, National Poetry Month, National Arbor Day, Easter Egg Roll, Drop Everything and Read
May: Happy Mother's Day, Memorial Day, Cinco de Mayo, Happy Birthday, Sally Ride!, Limerick Day, The Kentucky Derby, Florence Nightingale (for National Nurses Week), Amelia Earhart
Check it out here: https://www.teacherspayteachers.com/Product/Mega-Bundle-Reading-Passages-with-Comprehension-Questions-September-May-1795171
Thanks for looking!
Christina L
My Store: https://www.teacherspayteachers.com/Store/Christina-L