This Ocean Animals BINGO features 12 of the most beloved Ocean Animals . This package is very helpful to celebrate National Aquarium and Zoo month of June in your classroom.

The package includes:
– Lesson Plan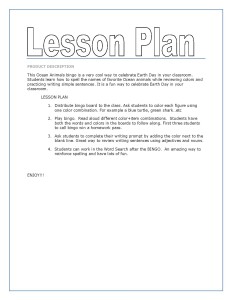 -BINGO Board- Students can color objects using a single color . Encourage creativity. For example a blue turtle, green shark.etc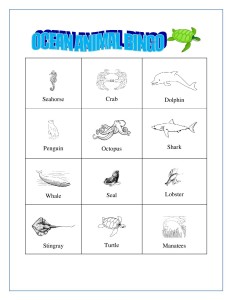 – Once the bingo board is filled, ask students to complete the writing prompt. Each sentence should describe the animal's color and size. For example: My shark is green and big.

-Play Bingo. Read different combinations and write them on the board. You can play for the whole board. All combinations should be written on the board. Ask students to verify their worksheets and correct them as they play. Winners can get homework passes.
-Word Search- Great conclusion for word recognition and review. Have students work in small groups and compete for a Homework pass.

You have enough material to work for a 1-2 days. You can use the vocabulary worksheet as a quiz at the end of the unit.
ENJOY!!!
VISIT MY TpT Store 
http://www.teacherspayteachers.com/Store/El-Jaguar
PIN THIS LESSON TO PINTEREST
https://www.pinterest.com/pin/414190496957335161/