Happy (almost) holidays, my friends. Have you noticed an excitement in the air? My students definitely have the Christmas Spirit, and are always thrilled to have some fun seasonal activities do to recognize it!
I run Early Literacy Intervention groups with students from grades 1-3. While we do guided reading and writing, and play skill-building games, once in a while I do like to have them do some worksheets that I can keep a copy of in their files. We are currently working through both of the packages shown in the picture above and they are enthusiastic with the variety of activities at their 'just-right' level, too.
Here is a close up of the North Pole Reading and Writing Fun preview:
…and one of the Nativity Reading and Writing Fun preview:
The kids are having a lot of fun with these, thanks to the wonderful clip art by Edu-clips.com. They can't wait to color the pictures!
Each of these packages come with the following tip sheet:
Best wishes to all of you and yours as we wrap up for the holidays. Take care of you, too!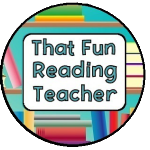 http://thatfunreadingteacher.com/
ThatFunReadingTeacher@gmail.com
Click the symbol above to access my TpT Store! 😉
---
---
Follow That Fun Reading Teacher's board Christmas Literacy Fun! on Pinterest.
---