I love New Years!  It's a great time to start fresh with new goals.  Am I successful?  Not always, but it is fun trying right?  And it's the perfect time to do so (and easier to keep track of when you started it!).
Kids are the same way- at least  my kiddos in my classroom are.  They are already telling me predictions for Christmas and what 2016 will bring them.  That's when I got the idea… Why not have the little ones create their own New Year's Resolution too!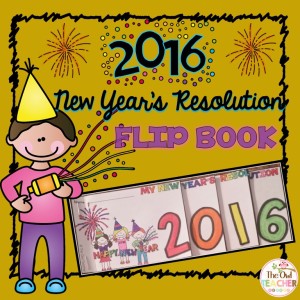 I created this easy flip book for students to work through as they think out their goal (along with a graphic organizer to brainstorm on).  In it students will not only determine what their goal is, but also describe why it's their goal and just how they will accomplish it!  I also can have them turn it into a written piece or reflect on how 2015 went so they can better determine how to reach their goals this year!  Plus, it's just cute!

So are you thinking this would make a great morning work project on the first day back from winter break?  Or maybe you are thinking it'd make a great center activity or for early finishers.  Head on over to my TpT store to check it out!  I think your kiddos will definitely enjoy this cute little keepsake!
Be sure to follow me so you are up-to-date on all my products, freebies, tips, and much more!
Copyright of The Owl Teacher.  All rights reserved by author. This product is to be used by the original downloader only. Copying for more than one teacher, classroom, department, school, or school system is prohibited. This product may not be distributed or displayed digitally for public view. Failure to comply is a copyright infringement and a violation of the Digital Millennium Copyright Act (DMCA). Intended for classroom and personal use ONLY.  I love it when you share my products with your colleagues but please do so legally!  Thank you!
---