Language Arts – "The Secret Heart" Analyzing and Writing Poetry
By Mary Pat Mahoney
Teach critical thinking, analysis, and creative writing using the poem "The Secret Heart" by Robert Coffin. This delightful poem tells the story of a childhood memory a son has about his father.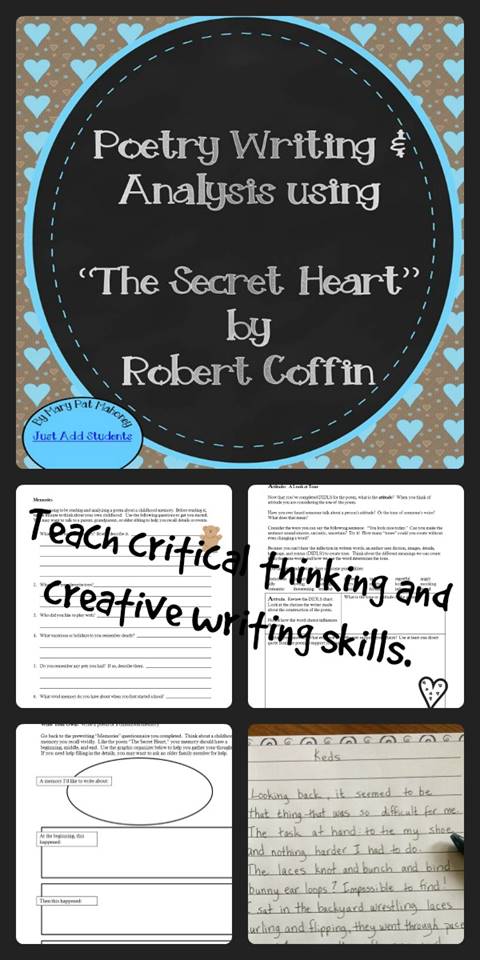 This resource will guide your students' understanding of the poem by using the TP-FASTT and DIDLS analysis acronyms.
The analysis tools are broken down in easy-to-follow activities – including practice scanning the poem.
The lesson ends with an opportunity for students to write their own childhood memory poem based on the format of "The Secret Heart."
This resource includes:
*daily lesson plans (CCSS aligned)
*pre-reading childhood memory activity
*student notes
*paraphrase chart
*vocabulary
*figurative language activity
*analysis of figurative language
*DIDLS chart
*attitude analysis
*symbol analysis
*title chart
*theme analysis
*guided writing prompt: Analyze theme
*comprehension assessment
*graphic organizers for original poem
*paper and frame for final poem
*rubric
*answer keys
"The Secret Heart" is widely anthologized. It is not in the Public Domain, so I haven't included a copy of the poem with this lesson. It is available through online and print sources.
Check out more poetry lesson on my TPT store:  Just Add Students
Thanks!
Mary Pat