Grades 4-6 and Homeschool
Sarah Peterson
Hands on History
Check out my latest High-Interest Language Arts Reading Comprehension Product: Pages, Squires and Knights!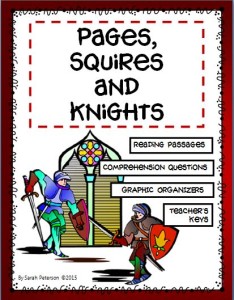 Short reading passages covering Pages, Squires, Medieval Knights, Jousting, Chainmail and Plate Armor.  Reading comprehension questions and graphic organizers are included for each passage.
This product is great for Social Studies (History) and Language Arts (Reading Comprehension).  The product contains: seven short reading passages and comprehension questions; seven graphic organizers (one for each passage); and the teacher's keys.     Questions are true or false; multiple choice and open ended, and include both literal and inferential questions.
The passage topics include:
Pages: Training to be a Squire
Squires: Training to be a Knight
Medieval Knights: Jobs and Duties
Jousting
Chainmail
Plate Armor
Lexile measure: 630L-660L
THIS PRODUCT IS GREAT FOR A QUICK SAMPLE FOR CHARTER SCHOOLS!   It may be used for Independent Reading, Homework, or as a Supplemental Homeschool Worksheet.  $
Visit my store and check out my other history-related products!
Please note:  The Informational Text also appears in my Medieval Careers Lesson Plan; however, the reading comprehension questions and graphic organizers are not a part of that lesson plan.
---