Mother's Day is right around the corner!  Check out my new Mother's Day Keepsake Book!
A Book Written in Verse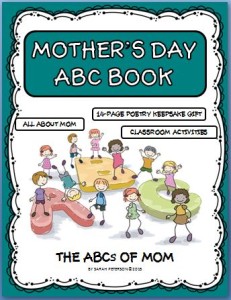 This engaging ABC Book (written in verse) is fun for students to complete and meaningful for moms to receive as a Mother's Day Keepsake Gift.    Students personalize the books by using their best observations and memories about their moms to complete the pages.
This product includes:
Both a Colored Cover and a Black and White Cover
A 14-Page Mother's Day ABC Book Written in Verse
Teacher's Instructions for Completion of the Book
2 pages of images/phrases for the "cut and paste" sections
To complete the book, each student will:
Write mommy quotes
Draw items found in mom's purse
Cut and paste bedtime routine pictures
Measure and record his/her height
Make handprint (paint, ink or trace)
Create a list of "mom's favorite things"
And much more!
This project is best completed over the course of several days!  Check out the Preview to get an idea of the verses and the activities.
Visit my store to check out my history based lesson plans and products!
---