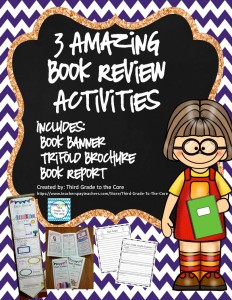 Need a great activity to finish out the school year?
This unit includes three engaging activities that are perfect for any time of the year. They can be used with any book! The best part is that they make a super cute display in your classroom.  It's a fun way for the students to look at the elements of a story. You may choose to have them all do the same book, but I love letting them pick out the book of their choice. It's a great way to get them motivated about reading!
Activities included: Book Review Banner, Book Review Trifold(brochure), and book report(graphic organizer and final draft)
Visit my store for more great products! Click the follow me button and be notified when new products are added!
Happy Teaching!
Third Grade to the Core
https://www.teacherspayteachers.com/Store/Third-Grade-To-The-Core
---