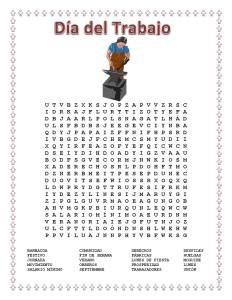 LABOR DAY IN SPANISH
Great Lesson to celebrate Labor Day in your Classroom. This lesson was designed to practice cognates and to teach students about the celebration of Labor Day in May in most Latin American Countries. You will also have a Community Workers in Spanish Word Search.
1) Word Search= 24 sentences and words (For example)
BARBACOA, COMUNIDAD, DERECHOS, DESFILES, FESTIVOS, …..PROSPERIDAD, UNION, TRABAJADORES…
2) 14 Labor Day Cross Word Puzzle with Spanish word bank full of cognates. Great dictionary practice for your students. Have them work in groups of two to figure out the answer. Homework pass for the winners.

3) Profesiones. This Word Search is a very good introduction to Professions full of cognates. Perfect cool homework assignment

FOLLOW-UP
*** Las Profesiones Thematic Unit- This full Professions in Spanish lesson can help introduce and practice the vocabulary related to community workers.
*** Las Profesiones-Spanish Professions- What they Do and Where they work?- This comprehensive unit combines vocabulary for professions, with verbs AR/ER/IR and locations. Great way to teach students how to write sentences.
https://www.teacherspayteachers.com/Product/Las-Profesiones-Spanish-Professions-What-they-Do-and-Where-they-work-Labor-Day-1487264
ENJOY LABOR DAY WEEKEND!!!
VISIT my TpT Store
PIN THIS LESSON
---