Do your students need more practice or to learn all Exponent Laws?
These worksheets are perfect to teach, review, or reinforce Exponent skills! These worksheets cover all 9 laws of Exponents and may be used to glue in interactive notebooks, used as classwork, homework, quizzes, etc. Tips, Instructions, & More are included.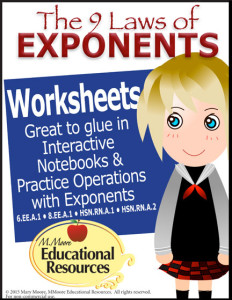 Perfect for teaching & reviewing the laws and operations of Exponents.
For 5th Grade & Middle School some of the sheets may be used for GATE.  Covers CCSS Standards:  5.NBT.A.2 • 6.EE.A.1 • 8.EE.A.1 • HSN.RN.A.1 • HSN.RN.A.2.  Perfect for Interactive Notebooks!
Learn more about these worksheets and other great teaching resources here…..
 Best Wishes,
M Moore

Certified K-6, 6-9 math, and 6-9 science
MMoore Educational Resources
TpT Store: Moore-Resources
TpT Store
https://www.teacherspayteachers.com/Store/Moore-Resources
Pinterest
https://www.pinterest.com/mooreeducresour/
Facebook
https://www.facebook.com/mooreeducationalresources
©2015 M Moore, M Moore Educational Resources,
You may share, pin, like, & repin.
________________________________________________________________________
---