By: Thirdgradetriumph
Grades: 2nd, 3rd, and 4th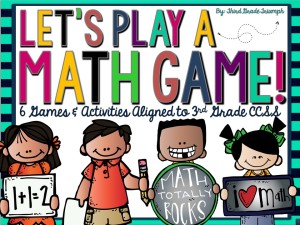 ***NEWLY REVISED*** IF YOU'VE ALREADY PURCHASED, THEN DOWNLOAD FOR FREE!
Let's play a math game! This huge pack of over 80+ pages of card games, board games, and assessment activities to practice 3rd grade math CCSS. This is a perfect way to jazz up your math centers and instruction with this fun and engaging pack! Be sure to check out the preview!
What's included:
Math Go Round (practice essential math skills in this fun activity around the room. Get's students up and out of their seats) – Assess a majority of 3rd grade math CCSS
Division Bingo (fun and engaging way to review division concepts) – 3.OA.7
Divide-O! (fun card game designed to review and practice division) – 3.OA.7 and 3.OA.5
Fractiontastic (fun and engaging activity to complete around the room. Also, a great way to review fractions!) – 3.NF.1, 3.NF.2, 3.NF.3
Expanded Form Headbandz (practice standard and expanded form with digits up to the hundred thousands with the classic game headbandz. You don't need the actual game to play this one, you can make your own headbandz out of sentence strips and paperclips!) – 3.NBT.1
Don't get it Twisted (practice multiplication facts with TWISTER. You don't need the actual game of twister to play this. You can, like I did, make my own twister game mat by using white butcher paper and printing out the appropriate colors as the circle spots, then laminating for durability.) – 3.OA.7
This pack is sure to engage your students and have them coming back for more! It's a perfect way to break away from the ordinary and have your students practice math concepts in an engaging and fun way. They will have so much fun that they will forget they are learning/reviewing. My kids always beg for more!
---