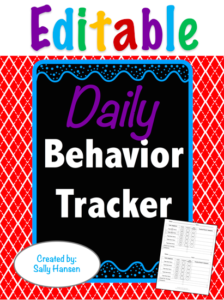 This tracker allows a student to set behavior or task goals each day. It is editable to enter the goals/tasks and change them as needed. There are 6 choices of half page with 5 goals/tasks focus or one full page by schedule. The reward or incentive can be typed underneath the tracking box. I've also included goal/task ideas to copy and paste.
You might be interested in Editable Behavior Clip Chart, Calendars, Awards, & Trackers for Classroom Management BUNDLE
Included in this Resource:
✓ Examples
✓ How I use This Resource
✓ 6 Half Pages Editable Goal/Task Tracker
✓ 1 Full Page Editable Tracker by Schedule
✓ Behavior Book Cover/Back Page
✓ 4 Choices of Pages for Behavior Notebook
YOU MUST HAVE POWERPOINT TO EDIT
Clip art and tables cannot be edited.
I've also included the behavior book which can be used simultaneously. I suggest to use the behavior book for extreme or serious behavior incidents. I try not to overuse the behavior book.
Happy Teaching!
Sally
---