by Tammys Toolbox
Kindergarten – 3rd Grade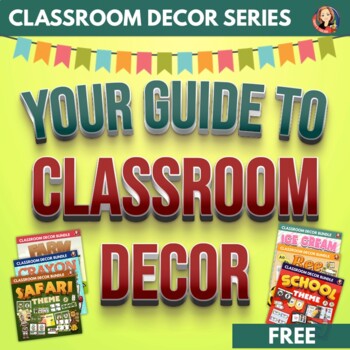 Is your classroom ready for back-to-school success? This free Guide to Classroom Decor and Classroom Organization will help you get it all setup! From checklists for decor and supplies, to tips on classroom set-up and how to use your space effectively, this guide has everything you need. Plus, there's a great selection of classroom decor resources and themes available from Tammy's Toolbox. So get organized and get your class off to a great start this year!
Included:
Checklist for Decor Items
Checklist for Supply Items
Checklist for Organizational Items
Tips on Classroom Set-Up
How to Use Decor to Organize Your Space
Printing Tips
⭐ This resource includes a catalog of classroom decor resources and themes from Tammy's Toolbox. ⭐
Classroom Organization and Décor Themes
Spots and Polka Dots Classroom Organization Decor
_____________________________________________________________
Be the first to know about my new discounts, freebies, and product launches
⭐Click Here to follow my store.
⭐Click Here to sign up for my Newsletter and get exclusive free resources
⭐Visit my Blog ★ Like me on Facebook ★ Follow me on Pinterest. ★
⭐Find out more about Dusty the Dog books and activities.⭐
★Don't Forget to Leave Feedback
Each time you give feedback, TPT gives you credits that you can use to lower the cost of your future purchases.
❤️Copyright © 2021 Tammy's Toolbox. All rights reserved by the author. This product is to be used by the purchaser only. Copying for more than one teacher, classroom, or department is prohibited. Multiple and school licenses are available. To purchase additional licenses, select and purchase additional licenses at checkout or go to "my purchases", select the item, and click "buy additional licenses".

https://www.teacherspayteachers.com/Product/Your-Back-to-School-Guide-to-Classroom-Decor-and-Organization-7074659
Join The Best of Teacher Entrepreneurs Marketing Cooperative at
https://thebestofteacherentrepreneursmarketingcooperative.net/the-best-of-teacher-entrepreneurs-marketing-cooperative-one-year-membership/
and get THOUSANDS OF PAGE VIEWS for your TpT products!

Go to http://www.pinterest.com/TheBestofTPT/ for even more free products!


---