by Maggie's Files
6th – 8th Grade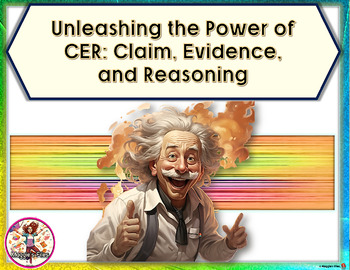 "Unleashing the Power of CER: Claim, Evidence, and Reasoning: A Sample Lesson for Teachers"
Calling all science teachers! Are you ready to take your teaching to the next level with an engaging and effective approach to scientific writing? Look no further! Introducing "Unleashing the Power of CER: Claim, Evidence, and Reasoning," a FREE sample lesson designed exclusively for teachers like you!
Unlock the potential of CER and transform your students into critical thinkers and skilled scientific writers! This comprehensive package includes 18 beautifully crafted PowerPoint slides and 6 pages of student notes (PDF), packed with exciting content to captivate and empower your middle school students. This presentation contains three formative assessments.
Key Concepts Covered: What is CER? Understand the significance of this powerful framework in scientific writing and communication. Crafting a Strong Claim Learn how to create clear, complete, and concise statements to answer questions and solve problems. Supporting with Evidence: Discover the art of gathering appropriate and sufficient evidence to back up claims effectively. Logical Reasoning: Master the art of explaining the connections between evidence and claims using logical reasoning. Enhance your students' understanding by connecting evidence to claims using relevant scientific principles.
This FREE product also includes three formative assessments to help you gauge your student's progress and understanding at key points during the lesson.
Exciting News!
Calling all teachers!
Introducing Maggie's Files! Your one-stop shop for fantastic educational products!
Unlock the power of CER (Claim, Evidence, Reasoning) with our amazing sample PowerPoint lesson! Engage your middle school students with this fun and interactive CER lesson!
Dive into the world of scientific reasoning and equip your students with critical thinking skills!
Perfect for science teacher , this CER lesson will make your teaching journey a breeze!
Grab this FREE sample now and level up your teaching game! Link in bio!
Join Maggie's Files community today and stay tuned for more exciting educational resources!
#MaggiesFiles #TeachersLoveIt #Education #CERLesson #ScienceTeaching #TeacherResources #PowerfulLearning #CriticalThinking #EducationalProducts
Be the teacher your students remember and cherish! Download "Unleashing the Power of CER" now and equip your learners with essential critical thinking and scientific writing skills that will serve them for a lifetime.
Get your FREE copy today, and let's embark on this exciting journey of scientific discovery together!
https://www.teacherspayteachers.com/Product/CER-Claim-Evidence-and-Reasoning-power-point-presentation-and-notes-1380342
Join The Best of Teacher Entrepreneurs Marketing Cooperative at
https://thebestofteacherentrepreneursmarketingcooperative.net/the-best-of-teacher-entrepreneurs-marketing-cooperative-one-year-membership/
and get THOUSANDS OF PAGE VIEWS for your TpT products!

Go to http://www.pinterest.com/TheBestofTPT/ for even more free products!


---