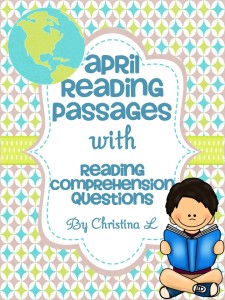 Here are some April non-fiction reading passages filled with lots of fun facts. Use them as a quick warm up activity, for early finishers or in a reading center.
Includes
• 8 April themed reading passage, each with 3 comprehension questions
• Worksheet for recalling 4 April facts that students have learned
The 8 passages include the following titles:
• April Fool's Day
• Jackie Robinson Day
• Happy Earth Day!
• The Titanic Sinks
• National Poetry Month
• National Arbor Day
• Easter Egg Roll
• Drop Everything and Read
Check it out here: April Reading Passages with Comprehension Questions
Thank you,
Christina
Visit my store here.