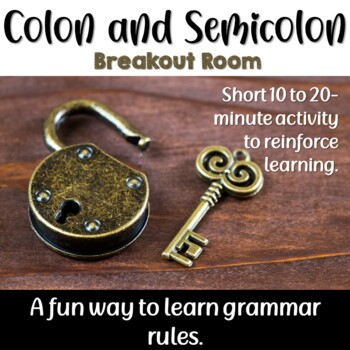 Description
This breakout room activity requires access to the internet and uses Google Docs, Slides, and Forms.
Breakout rooms are a great way to reinforce learning grammar concepts. In my experience, students don't love grammar and worksheets were not an effective means to teach them how to write better.
After several years of trying different things, I am excited to say that I have found the best solution yet. This mini breakout room allows students to reinforce grammar concepts while having fun. A student shouted, "This is so much fun!" while completing the activity.
What is different about this breakout room is its length. Many times, students get bored if the activity is too long, or if it is too challenging or complicated to complete. This mini breakout room focuses only on colons ad semicolons and will take students between 10 to 20 minutes depending on their skills and knowledge. (This is how long it took my grade 9 academic class.)
Please note that students must have prior knowledge of colons and semicolons before beginning the activity.
The instructions – Included are a set of instructions for students. Try this! With your stronger classes, instead of giving them instructions, students can try to uncover what they are supposed to do in each of the "rooms" on their own as an extra challenge. You can decide which method would best suit your group.
You can share a copy of the Student PDF with your class in Google Classroom or another digital medium, or you can only share the link in the instructions.
Please look for the entire line of grammar breakout rooms coming soon.
You may also be interested in the following products:
❒Rain, Rain, Go away Short Story
It's teaching made easy!
Total Pages
3 and 4 rooms
Answer Key
Included
Teaching Duration
N/A
---