Kindergarten and 1st
These daily math worksheets are great for morning work or to be used as a quick check, homework, or as a center. The pack is designed and framed for a 5-day rotation period, so after introducing the first sheet each week, students can complete remaining sheets independently.
The pack includes 12 sets of weekly practice.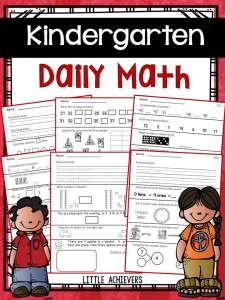 Skills included:
~Numbers and Counting
Numbers (1 to 100), number names (one to twenty), count forward and backward, tally marks, number line, count blocks, number sequence, dominos, tens frames, tens and ones, skip counting by 2s, 3s, 4s, 5s, and 10s.
~Patterns
~Comparing
~Positioning
~Fractions
~Geometry
~Addition (sums up to 10):
~Addition with pictures and addition word problems
~Subtraction (numbers up to 10):
~Subtraction with pictures and subtraction word problems
~Data graphs
~Seasons
~Telling time
~Counting money
Coin value, count money (pennies and nickels)
Happy Teaching!
---