By Little Achievers
Grade 1 and 2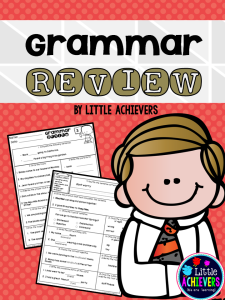 This Grammar Review packet consists of 10 sets of language review printables to practice and assess grammar skills.
All sets included in this packet follow the same format and gradually increase in difficulty level.
The grammar skills included in this packet are:
sentence, subject & predicate, types of sentences, sentence editing, noun, plural form, common and proper noun, rhyming word, pronoun, action verb, linking verb, contractions, synonyms, antonyms, prefix & suffix, adjective, and possessive form of noun.
Check it on my TPT store! Click here to buy it!
Thank you!
---