by The Science Vault
7th – 10th Grade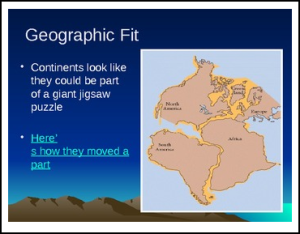 This is a 10 slide powerpoint that introduces the concepts of continental drift and plate tectonics. It includes colorful pictures, powerpoint animations and a link to an online animation of global plate reconstructions.
The slides include a short discussion of the evidence Alfred Wegener used to develop his theory of continental drift, namely:
geographical fit of continents
fossils match across oceans
rock type and structure match across oceans
ancient glacial features
This powerpoint is meant to be a "starting point" for introducing the topic of continental drift and plate tectonics and gives you a base from which to delve deeper into the topic with your students.
I am offering it free here on Teachers Pay Teachers so that you can see the quality of my work and at the same time, get something that you can use today in your classroom.
You can find the complete powerpoint (50 slides in all) here:
Continental Drift and Plate Tectonics with Animations
I have many high quality products here on TpT – here are links to some of my best-selling products:
https://www.teacherspayteachers.com/Product/Introduction-to-Continental-Drift-and-Plate-Tectonics-630048
Go to http://www.pinterest.com/TheBestofTPT/ for even more free products!
---