by Science in the City
7th – 10th Grade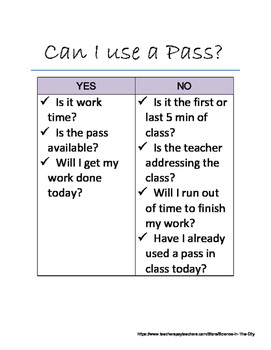 In my classroom, students always ask for passes, often when you are in the middle of
teaching, or at a time that they should not be able to go.
To try to help alleviate this, I have made this "Can I Use a Pass?" sign. It can be posted in a few places in the classroom, and can answer many of those questions simply by pointing to it, and training students to check there before asking for a pass.
It is very simple, and could easily be modified to fit your needs, but the concept might help your classroom. A good thing to keep in mind as you think about procedures and organization over the summer.
Also available as part of Back to School Classroom Organization Pack
**All pictures, graphics, and artwork in our lessons are either purchased legally for use or are created by Science in the City**
Terms of Use:
– Purchase of the product is for single classroom use by the purchaser only. It is a violation for individuals, schools, and districts to redistribute, edit, sell, or post this item on the Internet or to other individuals. Disregarding the copyright is a violation of the Digital Millennium Copyright Act and subject to legal action.
-By purchasing this product you acknowledge that you have read and understood the Terms of Use.
★★★★★★★★★★★★★★★★★★★★★
Don't forget that leaving feedback earns you points toward FREE TPT purchases.
Also, follow me and be notified when new products are uploaded. New products are always 50% off for the first 24 hours they are posted. It pays to follow me!
Please feel free to contact me with any questions.
★★★ Not a seller yet? Follow this Link and then leave me a note in my Q&A. I'm glad to help you with tips and strategies that will reduce the TpT learning curve and help you off to a great start!

★★★★★★★★★★★★★★★★★★★★★

JOIN ME:
Science in the City Blog | Instagram | Pinterest | Facebook

https://www.teacherspayteachers.com/Product/Can-I-Use-a-Pass-810628
Join The Best of Teacher Entrepreneurs Marketing Cooperative at
http://www.thebestofteacherentrepreneursmarketingcooperative.com/2014/01/the-best-of-teacher-entrepreneurs.html
and get THOUSANDS OF PAGE VIEWS for your TpT products!

Victoria Leon's TpT Store
Go to http://www.pinterest.com/TheBestofTPT/ for even more free products!







---