by The Speech Attic
Pre-Kindergarten – 1st Grade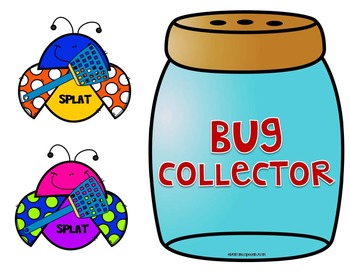 Bugs, Bugs, Everywhere! Help me catch them if you dare!
Check out this freebie for final consonant deletion as a preview of my early developing articulation activities for spring.
Included:
30 final consonant deletion bugs
4 special "splat" bugs
2 bug collectors
Place Velcro on each bug and on a fly swatter. Spread the cards all over the table or around the room. Have your students smack the bugs with the fly swatter and place them in their jar. The student who collects the most bugs wins the game.
2.) Spread the cards out on the table face down. Students will take turns flipping a card over, saying the target word, and collecting the bugs in their jar. Watch out for the special cards. The student with the most bugs in their jar at the end of the game is the winner.
(Note: SPLAT!! Can mean give two cards back or lose a turn.)
Enjoy!
************************************************************************
How to get TPT credit to use on future purchases:
Remember you earn TPT credits when you leave feedback for purchases. Those credits can be used to purchase more great products! Please go to you're My Purchases page (you may need to log in). Beside each product you will see a Provide Feedback button. Simply click it and you will be taken to a page to complete a quick rating and leave a short comment about the product. Your feedback is very important to me.
Be the first to know about my new discounts, freebies and product launches:
• Look for the green star near the top of any page within my store and click it to become a follower. You will then receive customized email updates about this store. ☺


https://www.teacherspayteachers.com/Product/Bug-Invasion-Articulation-Freebie-1692565
Join The Best of Teacher Entrepreneurs Marketing Cooperative at
http://www.thebestofteacherentrepreneursmarketingcooperative.com/2014/01/the-best-of-teacher-entrepreneurs.html
and get THOUSANDS OF PAGE VIEWS for your TpT products!

Victoria Leon's TpT Store
Go to http://www.pinterest.com/TheBestofTPT/ for even more free products!







---