by Connie
11th – 12th Grade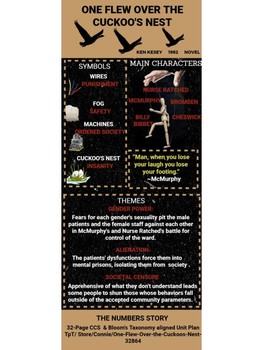 This infographic for Ken Kesey's iconic novel about insanity vs. reality, 'One Flew Over the Cuckoo's Nest,' summarizes the Main Characters, Symbols, and Themes and also offers one of Randle P. McMurphy's most memorable philosophical quotes.
For more detailed information on the elements of literature previewed here, and for others, as well as for activities, essay topics, group and individual projects, discussion questions, quizzes and a final test, check out the 32-page CSS and Bloom's Taxonomy aligned unit plan.
Literature – One Flew Over the Cuckoo's Nest Unit Plan
Enjoy a Teach It Now Day Every Day.
Connie
Follower Advantage
For an automatic Heads-Up! email about Updated and New products, and also for Sales and other promotions, please click on the Follow Me star under my Store name, Connie.


https://www.teacherspayteachers.com/Product/Infographic-One-Flew-Over-the-Cuckoos-Nest-3836781
Join The Best of Teacher Entrepreneurs Marketing Cooperative at
http://www.thebestofteacherentrepreneursmarketingcooperative.com/2014/01/the-best-of-teacher-entrepreneurs.html
and get THOUSANDS OF PAGE VIEWS for your TpT products!

Victoria Leon's TpT Store
Go to http://www.pinterest.com/TheBestofTPT/ for even more free products!







---