by CrunchyMom
Pre-Kindergarten – 12th Grade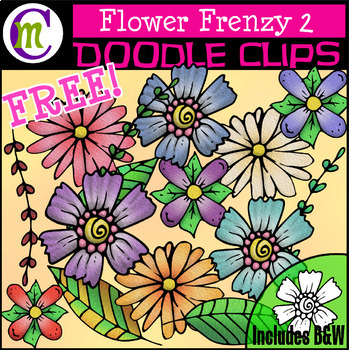 Who wants another spring clipart FREEBIE?! Great for adding a punch of color to covers, or to embellish your spring, Easter, or Earth day resources, these doodle flower illustrations are just the thing 🙂 There are 5 different images, each in 3 different color variations. White-filled blacklines are also included.
All pieces are high resolution 300 dpi PNG images on transparent backgrounds and can easily be layered into your projects and lesson materials.
What Are Doodle Clips? Doodle Clips are images created from sketching traditionally (on paper), inking (blackline), then coloring either traditionally (with markers, pencils, or paint) or digitally. They tend to have a much more organic feel, and AREN'T composed of perfectly straight lines. There is beauty in imperfection, which is what I love most about Doodle Clips!
*****************************************************************************
All Crunchymom graphics are protected under U.S. copyright law and the Digital Millennium Copyright Act (DMCA). All rights are reserved. When you purchase any of my graphics products, you are purchasing a SINGLE USER license and NOT the copyright to my images or products.
Terms of Use for Crunchymom Graphics:
● Commercial use: Graphics may be used in commercial products, but MUST be flattened and secured if you use the images in products you sell (or distribute). Graphics MAY NOT be used to create other clipart or digital paper and MUST NOT be the main element in your product. Some examples of this would be classroom decor, binder covers, coloring pages, posters, or flash cards that do not add at least 50% of educational content to your overall product.
● Commercial credit is required: A link to the Crunchymom TpT store is required in both commercial products and freebies. A CM Logo image is included in the download file.
● You MAY NOT use my graphics for any commercial printing (stickers, pencil toppers, embroidery patterns, stamps, or any similar hard goods) without having written consent from Crunchymom. Images MAY NOT be used in products for sale on Etsy, Zazzle, or similar hard-product-based websites.
● Personal classroom use: Crunchymom graphics may be used however you wish personally in items that are not shared, distributed or sold.
● Blog/Website Usage: Images must be flattened and secured with other elements so they cannot be easily lifted and my CM Logo with a link to my store must be visibly displayed.
Purchasing and/or downloading any of my graphics products confirms your agreement to adhere to my FULL TERMS OF USE. Failure to comply with my terms is a copyright infringement and a violation of the Digital Millennium Copyright Act (DMCA). Please read my FULL TERMS OF USE prior to purchase.
If you have questions regarding these terms, please contact me at crunchymomorg@gmail.com
***********************************************************************
THANK YOU for stopping by my store!
spring clip art free Easter clipart April showers bring May flowers Earth day clipart

https://www.teacherspayteachers.com/Product/Flower-Clipart-FREEBIE-4507928
Join The Best of Teacher Entrepreneurs Marketing Cooperative at
http://www.thebestofteacherentrepreneursmarketingcooperative.com/2014/01/the-best-of-teacher-entrepreneurs.html
and get THOUSANDS OF PAGE VIEWS for your TpT products!

Victoria Leon's TpT Store
Go to http://www.pinterest.com/TheBestofTPT/ for even more free products!







---