Daily Archives:
May 8, 2015
---
These easy-to-use, printable mini grammar books are ready for use.  There are ten mini books that feature the parts of speech.  Each page contains printed headings that can be used to organize notes.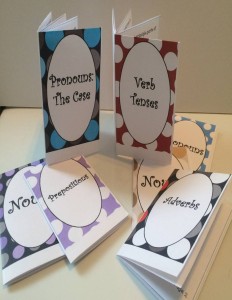 Students can create their own reference mini books to use when they're learning to use different grammatical concepts.
By using the books for writing assessments, quizzes, journal prompts, and practice, students strengthen note taking skills.  Students also go back to their own text to check for understanding.
So many ways to strengthen student engagement between grammar and writing!
Check out more on Mini Grammar Books  at  Just Add Students
Mary Pat
---