by Leah Cleary
9th – 12th Grade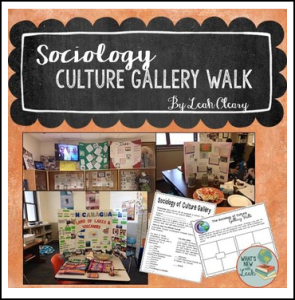 I use this in sociology, but it's great for world history, as well. Assign students a culture to research. They will create a poster or trifold and bring in artifacts and food samples from that culture. On presentation day, instead of standing up and sharing with the class,, students will set up displays around the classroom. Students will use the note handout to record information as they walk around the classroom, sampling the food and discovering information about different cultures.
If you like this, be sure to check out my other sociology products. More sociology materials coming soon!
***How to get TPT credit to use on future purchases***
• Go to your My Purchases page. Beside each purchase you'll see a "Provide Feedback" button. Click it and you will go to a page where you can give a rating and leave a comment for the product
***Be the first to hear about my new products and discounts***
• Look for the green star near the top of any page in my store and click it to become a follower. You will then receive updates about my store.
Be sure to check out my blog for stories, resources, and ideas! My Blog
https://www.teacherspayteachers.com/Product/Culture-Gallery-Walk-for-Sociology-and-History-1822801
Go to http://www.pinterest.com/TheBestofTPT/ for even more free products!
---