by Love from the Art Room
Pre-Kindergarten – 5th Grade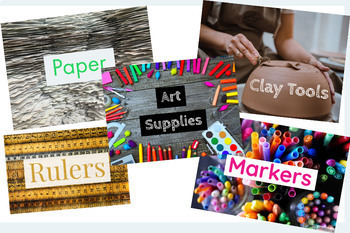 These colorful photographic labels will brighten up your classroom while clearly labeling supplies. The images illustrate the words which make it easier for English Language Learners along with young readers to find supplies.
I have included the following labels in this packet; Art Supplies, Acrylic Paint, Clay Tools, Color Paper, Crayons, Fibers, Folders, Glue, Highlighters, Magazines, Markers, Newspaper, Notebooks, Oil Paint, Oil Pastels, Paint, Paper, Pencils, Pens, Post its, Rulers, Scrap Paper, Sharpies, Shop Tools, Spray Paint, Stapler, and Watercolor.
Labels are jpeg images listed in a Google Document for easy resizing and printing. All images that I used are royalty free with added design by me.

https://www.teacherspayteachers.com/Product/Art-Supply-Labels-6077865
Join The Best of Teacher Entrepreneurs Marketing Cooperative at
https://thebestofteacherentrepreneursmarketingcooperative.net/the-best-of-teacher-entrepreneurs-marketing-cooperative-one-year-membership/
and get THOUSANDS OF PAGE VIEWS for your TpT products!

Victoria Leon's TpT Store
Go to http://www.pinterest.com/TheBestofTPT/ for even more free products!






---