by Master Xuan
Kindergarten – 12th Grade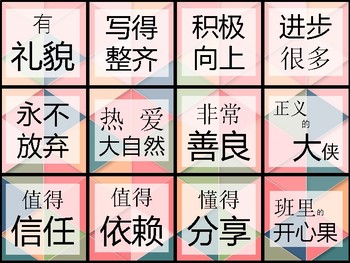 12 Chinese Brag Tag or Affirmation to give to students. Print them out on cardstock or plain paper, laminate them (if you wish), and cut them out!
I have prepared 30 words of affirmation but not sure would it be useful or is there a market for it. Hence, I decided to give 12 basic brag tag for free to test the water.
Do leave feedback and let me know:
– Do you think it is useful
– Would you be willing to buy something similar
– Dimension of brag tag
– Would you prefer it without a line for name or a line to write the name
– Specific words of affirmation
Do follow me!
You may be interested in the following freebies:
You may be interested in the following Chinese products:
•Chinese and English Food Flashcards and Games
•Differentiate the Initials Chinese Board Games
*************************************************************************************************************
Customer Tips:
How to get TPT credit to use on future purchases:
Please go to your My Purchases page after you log in.
Beside each purchase, click the Provide Feedback button and you will be taken to a page where you can give feedback for the product.

How it Works
Earn TpT Credits for purchases on TpT. You get one TpT Credit for every $ you spend on TpT. Thing is, you only get the Credits after you Provide Feedback — both a fair rating and a fair comment — on the items that you purchase. We will round up for you, too! If you provide fair feedback on a $4.75 item, you will earn 5 credits. Every 100 Credits is worth $5 that you can apply towards future TpT purchases, but there is no need to wait until you have 100 to redeem them. 50 credits is worth $2.50, for example.

How to Redeem TpT Credits
When you check out, you will be given the option of applying your TpT Credits to your purchase, thereby discounting your purchase price accordingly.

Be the first to know about my new freebies and products:
Click the green star next to my store logo to become a follower.
Check out my Pinterest Board!

https://www.teacherspayteachers.com/Product/Chinese-Brag-Tag-Affirmation-4125108
Join The Best of Teacher Entrepreneurs Marketing Cooperative at
https://thebestofteacherentrepreneursmarketingcooperative.net/the-best-of-teacher-entrepreneurs-marketing-cooperative-one-year-membership/
and get THOUSANDS OF PAGE VIEWS for your TpT products!

Victoria Leon's TpT Store
Go to http://www.pinterest.com/TheBestofTPT/ for even more free products!






---