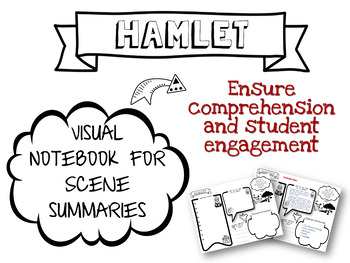 Description
This resource has been created as a substitute for the traditional "questions and answers" method we are used to. As teachers, we aim to ensure students understand the play's essential elements, but we also want to engage them in a "hands-on" fashion.
Studies demonstrate that Sketch noting and doodling help students retain information and understand concepts better than simply answering questions.
This resource allows students to complete notes during the reading process and use the images and heading provided to help them know what the focus should be on.
This is also an excellent study and review tool.
Included in this resource are:
❒a note-taking page for every scene in the play
❒a note-taking page for every soliloquy in the play
❒a comprehensive answer key for all scenes and soliloquies
The Hamlet Visual Notebook is now available in digital format on Google Slides for distance learning.
You may also be interested in the following products:
❒Much Ado About Nothing No Prep Unit
❒Romeo and Juliet No Prep Unit
❒Wuthering Heights Student Workbook
❒The Yellow Wallpaper No Prep Mini-Unit
It's teaching made easy!
Total Pages
48 pages
Answer Key
Included
Teaching Duration
N/A
---