by Readable Creations
Kindergarten, First Grade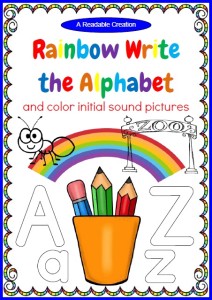 Rainbow Write the Alphabet & Color Initial Sound Pictures …
Each blackline sheet in this resource contains a matching upper- and lowercase letter of the alphabet (with a starting arrow) and pictures of things beginning with that letter sound. Your students can rainbow write inside each letter outline using the colors of the rainbow – red, orange, yellow, green, light blue, dark blue, and purple.
These activity sheets provide handwriting practice and beginning letter sound recognition.
*The KG Primary Penmanship font was used for all the letter outlines.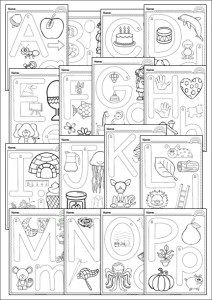 This pack is included in an alphabet bundle with the following pack:
Alphabet Letter Search…
This pack will help your students review all the letters of the alphabet. It aligns with the Common Core Foundational Reading Skills Standard:
Recognize and name all upper- and lowercase letters of the alphabet. (RF.K.1d)
Your students can follow and color each patterned path of upper- and lowercase focus letters.
Extra Challenges:
Find and circle/underline/trace certain letters;
name things that begin with the focus letter sound.
Extension Activity: Practice handwriting by doing rainbow writing inside the letter outlines at the top of each sheet.
Included in this pack: 26 activity sheets – one for each letter of the alphabet.
*The KG Primary Penmanship font has been used for the lettering in both packs.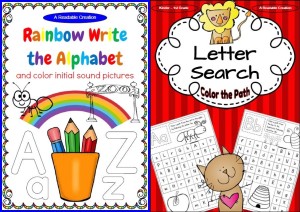 ---